>> Thursday, August 5, 2010 –  friend
Asalamualaikum
ayu,nasyer,piqa,syaima,hasbi,syeqa,tasnem,izzah,hanan,yana,hanna,nani,izzah,

aiman

,leng,miza,
yana,sane,tiqa,tshy,adda,misah,lynn,yana,farah,kak gee,shela,najla,sumayyah,dan muka2 yg xbrape nampak ;p
wong,steam,saleh,malik,hilmi,nazmi,kamil,hakim,acap,wawan,ipan,amin,aiman,kayan,abul,hasif,
anas,faisal,kimi,amirul,wan,beto,usop,pian,haziq.dan mereka2 yg xbrape nampak juge.gegar la wei.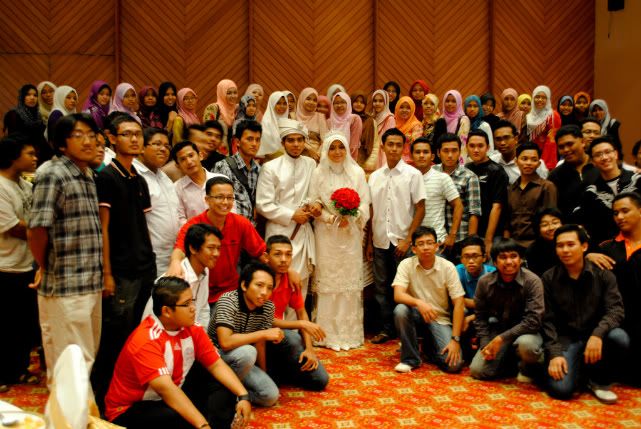 natsukashi tengok mereka.hanya dapat tgk lihat2 gambar di facebook.this pictures thanx to
yana,hantar guna skype.thank jugak kpd beto yg rajen upload gamba amin tangkap. :)
after 3 years,suddenly one of us got married.alhamdulilah.
may Allah bless Fatin & Muawwidz.
I'm very eager to see who'll be the next bride or groom among my dearest friends of batch 0307.haha :D
-quote beto sbgi bekas ku sepintar kih3
You can actually feel the "Al-Hub huna" between them.
I witnessed an incident where a girl who was trying to 'shoo' Awiz away so that she can be beside Fatin to take a photo.But then Fatin held out her hand and took him by her side.Soooo sweet
-quote seorang rakan fb fatin
haih.rindu mereka.tapi rindu family lagi menebal kot.tiada siapa boleh tandingi.haha.only Allah know how bad i miss them.
untuk pulang ke Msia,ada lagi 6 exam menunggu.

6 oke!jgn
main2

!

3 second exam,dan 3 final exam.yosh yosh,dila ganbatte!xtau kenapa update,tapi nak update.haha.tanpa arah tujuan.lagipon hari ni dila menjadi manusia yang paling xstabil kat science hall tu.kesian kepada mereka yg terkene tempias.mintak maap :)
sakuradila